There is no right or wrong time to make your memorial selection. The time to do so is when you feel you are ready. Most of the cemeteries in our area leave space above the gravesite for the memorial to be placed so it is resting on undisturbed ground. This means the placement of your memorial can be done at any time you feel you are ready to do so.
The price for monuments varies and will depend on the size of the monument selected, how it is finished, the shape you select and what color of granite is used. Other additional such as ceramic portraits and flower vases will add to the cost of the monument. Also, many cemeteries have fees for installation, foundation charges, inspections and a fee for perpetual care that factor in to the total cost of a monument.
Eastern Memorials provides every purchaser a written guarantee against defects in material and workmanship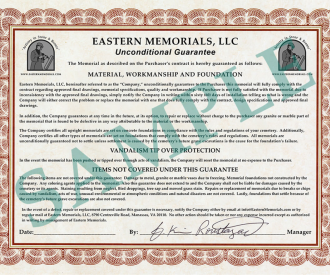 From our experience, we have learned there are some companies whose pricing are higher and there are a few that are lower. We believe we provide the best value because of our warranty, foundation work, craftsmanship and the quality of the stone we use. Pricing is certainly important but the value you receive is more important. In a few years, if a monument starts to settle or fall over the price you paid becomes unimportant when you have to pay for repairs.
Any memorial that is in our inventory can be placed in the cemetery in about 8 weeks. This can vary by a couple of weeks if weather becomes a factor or and ground conditions become unstable because of wet weather conditions. For special and custom orders, it can take as long as 4 to 6 months to installation in the cemetery.
No, it is your right to purchase the memorial from any company you choose to use regardless of what you are told by the cemetery's agent.
The choice is yours. We have found most families want to place a memorial on their loved one's grave. The placement of a memorial gives you a way to connect with your loved one when you are visiting their grave. There are many options available to you to memorialize a loved one.
There isn't a charge for our drawings when we use our standard designs. There could be a cost for custom drawings when the purchase isn't finalized the day the drawings are made. If there is a charge, that amount will be credited toward the purchase of the memorial at the time of you make the purchase with us.
Tombstone, monument and memorial are interchangeable terms and all mean the same thing.