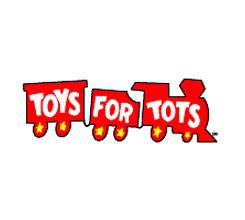 Active Contributor US Marine Toys for Tots Foundation
Eastern Memorials has been proudly participating in the local Toys for Tots program every Christmas season for the past 5 years. Eastern believes that it is important and vital to support its local patrons and the city and area it serves.
We are grateful that we have been able to work side by side with the United States Marine Corps to help fulfill the Christmas dreams of our nations' neediest children. Each year Eastern recruits as many local area businesses and schools that are enthusiastic about participating in the massive toy drive and manages along with them to collect as much as they are able in the time allotted.
We make it a point to participate in the Manassas Christmas Parade each year to create awareness to the public that we are the MAIN drop off center in the City of Manassas and that there are many needy families right here at home. Every year after our collection is finished we arrange a small Christmas party where Santa and friends are present along with the United States Marines.
We serve refreshments, give away door prizes donated by our local merchants and listen to holiday music performed by our own local musicians. Anyone interested in helping or participating in this charitable event is more than welcome. To find out more about Toys for Tots, visit their website at www.toysfortots.org.