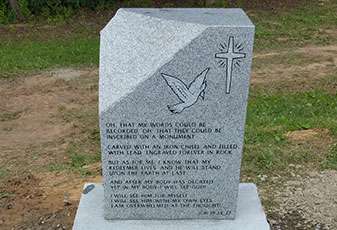 Memorial for Unknown Persons
June 16, 2016
The Prince William County Sheriff's Office in partnership with Woodbine Baptist Church provided a final resting place for 41 citizens at Woodbine Cemetery in Manassas, Va on Tuesday, June 7. The event provided an honorable burial for residents who passed away and went unclaimed by family members. Chaplain Gene Wells officiated the event, leading the attendees in prayer. Sheriff Glen Hill, Mayor Hal Parrish, and Chaplain Don Belanus expounded on the importance of recognizing deceased residents within our community who do not have family and providing them with a respectful burial.
Eastern Memorials, donated its time and materials to create a custom granite memorial in recognition of Prince William County's unclaimed residents. The memorial is located in Woodbine Cemetery and list the names of each unclaimed resident interred at the site. In addition, a website has been designed to allow citizens to view the names of the unclaimed residents who are interred at the cemetery: www.pwcup.org

Virginia law charges local sheriff's offices with taking custody of deceased unclaimed residents, but it does not say how officials are supposed to dispose of them. Sheriff Glen Hill stated, "I am grateful that Prince William County Sheriff's Office is able to serve the unclaimed citizens of Prince William County and the cities of Manassas and Manassas Park, and provide a noble funeral for them through our partnerships with community organizations." In Prince William, the Sheriff's Office contracts with various crematoriums for cremation, then in partnership with Woodbine Cemetery each unclaimed resident is supplied with a burial plot. Woodbine Cemetery has been gracious in providing space for the deceased unclaimed residents at no cost.
The remains buried on Tuesday included citizens who died from natural causes in their homes or in hospitals. These individuals included: Douglas Allen, Linda Archer, Betty Bayse, Eva B Cantello, John Crawford, John Ignatius Ciccolini, Larry Dixon, Maria Ehler, Daniel Eshelman, Laura Lynn Farley, Wallis Ray Fay, James Alberto Fletcher, George Freeberg, Stacy Green, Donnie Lee Grogg, Laurel Hauer, Robert Miller Justice II, Thomas H.C. Langel, Donald L. Marks Jr., Roberto Martinez-Rosa, Joseph A. Moneymaker Sr., Conception Ortiz, Paul Oullette, David Patton, Ronald Henry Payne, Mark Pennington, Reginald Poindexter, Gilbert F. Randall, Tyrone Powell Reid, Sa Say, Mark Settle, Omer Shipe, Angel Steele, Eran Stokley, Dolores Sullivan, John Sullivan, Donald Thomas, Michael David Vincent, Robert T. Wiedner, and two unnamed residents. The unclaimed resident memorial will be available for viewing at Woodbine Cemetery on Monday, June 13. Sheriff Hill hopes to continue to build partnerships with community members to support our unclaimed citizens in the future.