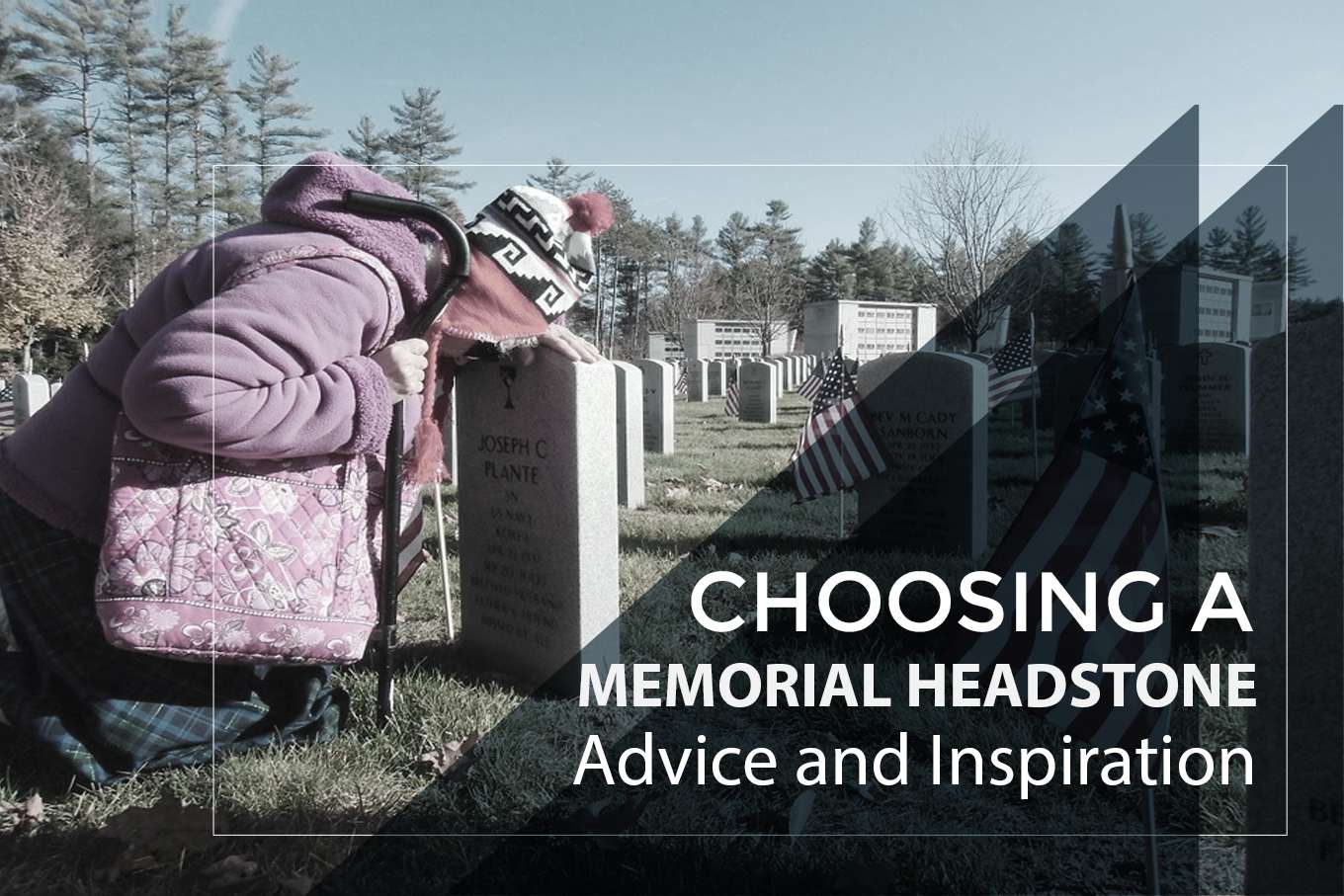 Choosing a Memorial Headstone: Advice and Inspiration
The process of selecting or designing a headstone for your loved ones is not as easy as it seems. A lot of questions come into the mind, such as:
Should I go for a headstone and base or go with a full monument?
What sort of stone should the headstone be made of?
What should be the font type for the tombstone inscription?
Before we decide what sort of headstone suits our requirements we need to know what kind of headstones are available out there.
The following are the main types of headstones:
Flat grave marker:  Also known as the grass maker, it is a tablet made of either stone or bronze, which is fixed flat into the ground.

Flat tablet: It is basically a block of stone or concrete with a flat top. The deceased's family can decide the inscription which can be on the stone, or on a plaque attached to the stone.

Desk tablet: Also known as a Sloper, it is a block of stone or concrete with a slop like front face. The inscription decided by the loved ones can be on the stone, or on a plaque attached to the stone.

Headstone and base: The basic headstone marking where the deceased is buried. It is usually on top of a stone base.
Flat Tablet
These are simple gravestones which are supposed to be rectangular, and are either flush with the ground or raised slightly to allow the water to run off. They are usually cheaper compared to other headstone prices and contain little information in comparison. The Flat or ground level gravestones are mostly made from either granite or bronze because lettering or painted designs have a very limited life span on these gravestones.
Desk Tablet
These are also known as the DVT (Desk vase tablet) gravestone. They are known to resemble miniature upright headstones, however, they are thicker and shorter which is why they sometimes have a cement or granite foundation to keep them in place.
Upright Headstones
These gravestones are most commonly used. They are usually tall, thick and rounded with a concrete base. Measuring around three feet high by two and a half feet wide by one-foot-deep, the upright gravestones are made from a wide range of materials, with granite and marble being the most common types.
Memorial headstones
The memorial headstones are made from a number of different types of materials which ensures lasting durability against weathering and a selection of designs. A memorial is preferred mostly by the loved ones because it reflects the individual who is missed, the relationships they had with family and friends and most importantly their connection to you. Unlike simple headstones, you can add personalized engraving including inscriptions from them to you in case they had asked for something specific or it can be the other way around, an inscription from you to them.
Cremation memorials
The cremation memorials range from headstones to plaques, to urns and vases. These memorials are a point of focus and create a connection for family and friends to reflect upon the memories during the relationship. Inscriptions on these memorials give the loved ones an opportunity to comfort those who visit with personal words.
Bespoke memorials
Once you have decided upon the way in which you want to mark the grave, bespoke memorials can personalize it and make it unique in a way like its telling a story. An alternative design tends to reflect the individual personality of the deceased for family and friends to recognize. You can select exactly what size, shape, color and finish you would oblige your memorial with. You can also choose from several different lettering styles. Finally, inscriptions will allow you to choose words that would create a special and personal memory.
The type of headstone you select should represent the deceased's personality and complement the obituary. It is very important to know how much text or images you would like to include before you make your decision. This ensures that you have enough space to present your message in a sophisticated and smart manner. There are various types of headstones available in all sorts of shapes, sizes and materials; each one of these can be customized, to create something completely unique.