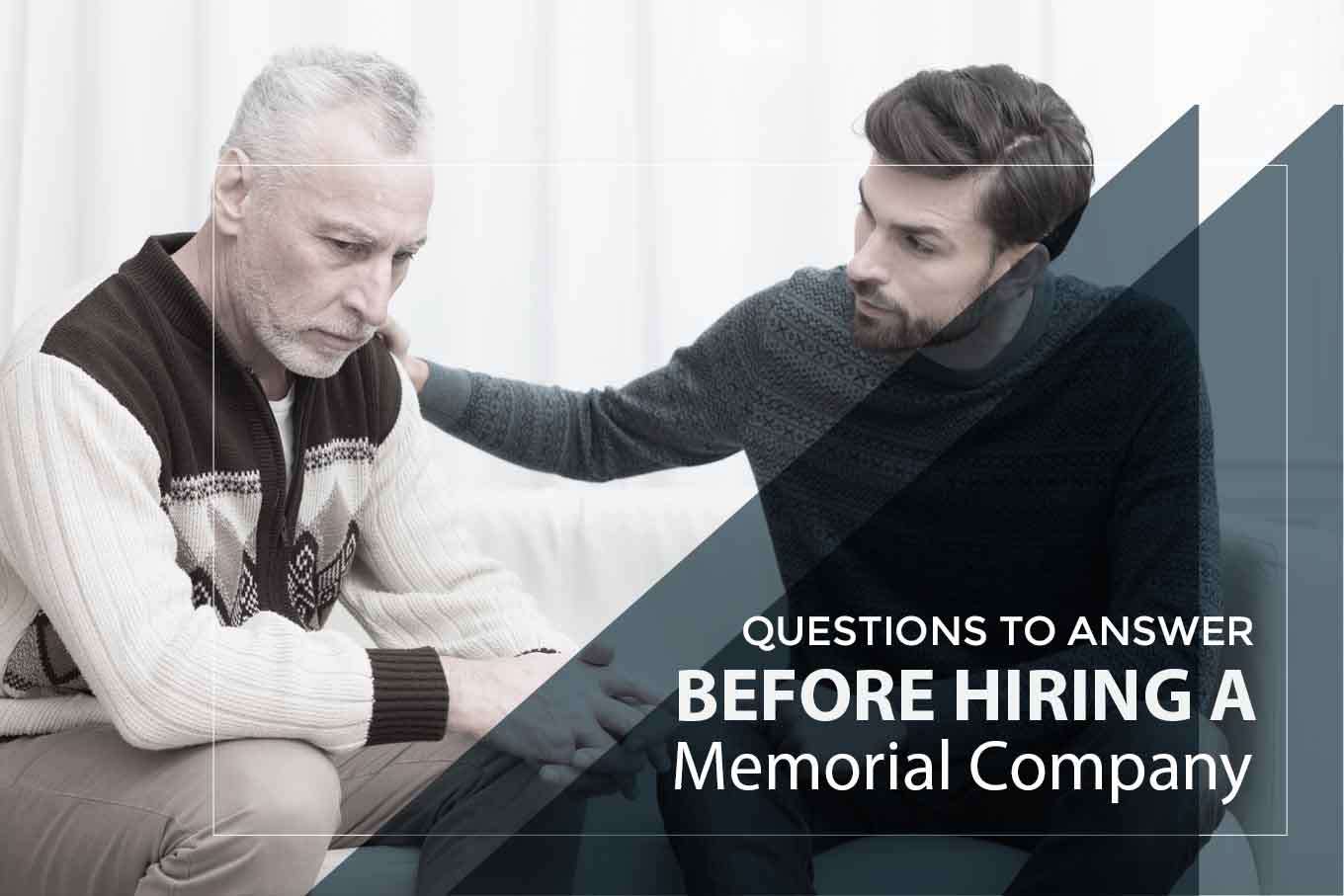 Questions to answer before hiring a Memorial Company
Choosing a memorial company or retailer can be a difficult task. An established memorial retailer with an honest reputation should be the right choice.  Before hiring any memorial company, you need to see if they have answers to certain queries.
Is installation of memorial the only business they do?

Are they members of any association?

How long will they take making the memorial?

Do they have enough information regarding headstone markers?

Can they provide different types of headstones? etc.
They should provide a "full service", meaning that memorials should be their main business, not an add-on to some other businesses they do.
The memorial company you choose should be able to provide you with a wide range of choices for memorial headstones so that you may be able to select the right headstone for you and your family. Also inquire about work guarantees. It would be preferable to have a company that will stand by their work for years to come and are suitable enough to work with you in order to create a Memorial that is unique and beautiful.
Depending on what cemetery you chose for your loved ones is going determine what type of memorial or marker you are allowed to have. Cemeteries that are memorial park type usually require a flat ground level marker, while some require bronze or bronze on granite markers which are usually quite expensive than the traditional granite. Many privately or corporately owned cemeteries charge an installation or marking fee and most of the time will not allow the hired company to do the actual installation. They may also have several complicated rules and paperwork and it would be wise to be warned of these types of cemeteries which may have the tendency to charge very steep fees, hence it's good to know these rules and fees ahead of time. No matter what the cemetery tells you, everyone is allowed to purchase their headstone or marker from the company or anybody that have headstones for sale; basically you do not have to buy from them. Most of the cemeteries that companies deal with are municipal or country type cemeteries that allow them to do the installation and there are usually few or no restrictions. In case there is a marking or installation fee, it is usually minimal.
When you come to choosing your memorial, be sure to pick a style or design that fits your style and most importantly your pocket book. Many companies sell memorials but few actually make the memorials as per clients requirements. Some companies are known to have a full production monument shop which means that they can create and then install the memorials.  However it is still up to the client if they want to purchase the memorial from a sales facility such as a cemetery, funeral home or a sales outlet.  Some of the things to consider no matter where you purchase your memorial from are to look at their product for quality, such as, the depth of sandblasting, proportions of designs, consistent line width and uniformed design work.  It is important to see the previous work done by the company instead of generic brochures and designs pamphlets, so that you know what to expect in your own memorial. This way you can feel comfortable and confident in the facility you are purchasing from. Another way to get good ideas for your purchase is to look around the cemeteries. Internet is also a great place to get ideas.  
A personalized memorial in this day and age has become very common and a good company always encourages their customers to make the memorial their own. It usually does not cost much to add personalization to a standard memorial.  If you are really interested in something unique you can sit down with your retailer and design a memorial from the ground up. You can also see sample custom designs to get the best personalization. 
Most of the memorials are guaranteed against any cracking or deterioration as well as craftsmanship. The only part of a memorial that is not permanent is usually the paint or 'Litho chrome' which is used to enhance the designs and lettering, so that the company can take great strives to make sure the lettering and design are sandblasted and prepared in the best possible way for legibility, once the paint has come out.  In some cases companies avoid using paint altogether, for example, a granite monument will last for hundreds of years.
Lastly there is no memorial too small or big; we can make the smallest pet marker to the largest civic memorial.  A sign of a good company is to welcome ideas and work with you to create your vision.