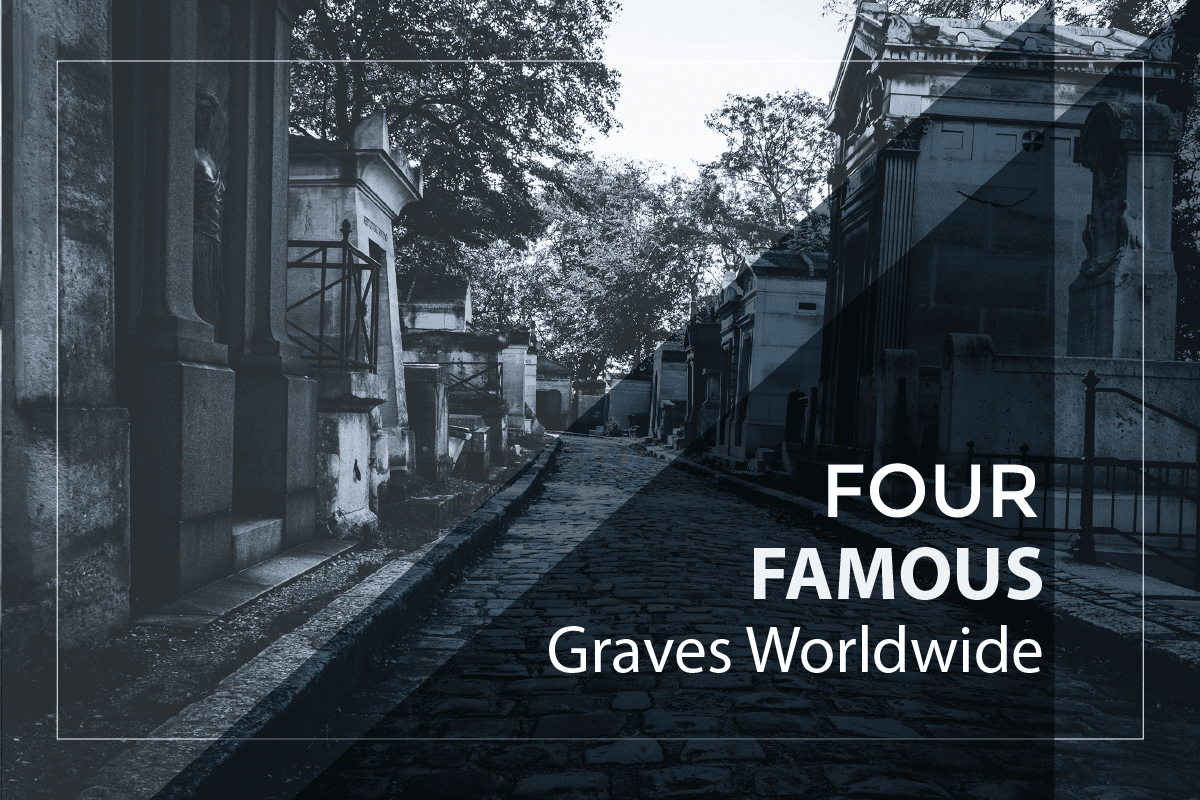 Four Famous Celebrity Graves Worldwide
Visiting famous grave sites of celebrities is considered as a way of paying tribute to important historical and cultural figures. Taking out time to visit the grave sites of celebrities and famous people allows us to feel that we are part of their memory being continued for generations to come, as well as remember and reflect on the nature of their death.
Here's a list of four most beautiful and fascinating celebrity graves that are worth taking the time to travel and visit.
Elvis Aaron Presley, Graceland, Memphis
One of the most significant cultural icons of the 20th century, Elvis Presley was an American singer and actor. His grave is one of the most visited graves in the world, bringing more than 500,000 of his devoted fans every year. Elvis and many of his family members are resting in The Meditation Garden in Graceland.
Elvis's grave is beautiful not just because it holds one of the biggest music icons ever, but also because of the love and devotion his legacy inspires. You can also check out some of the similar tombstones for sale here.
Princess Diana, Althrop, Northamptonshire
Princess Diana's tragic death in 1997 led to a period of true mourning and sadness across the globe. Hundreds and thousands of flowers were laid outside Buckingham Palace as the local residents gathered to pay tribute to 'the people's princess.'
Diana's final resting place is set away from the public, on a small island in a lake in Althorp. The island is open to a very few people who wish to visit the Princess's grave. A memorial is built beside the lake for mourners to pay their tribute to Princess Diana.
Jim Morrison, Père Lachaise, Paris
Lead vocalist of the famous rock band the Doors -Jim Morrison's final resting place is the Père Lachaise Cemetery in Paris. Jim's grave has had many different memorial styles over the years, including a bust of him, which was vandalized and stolen. Due to repeated vandalism and graffiti, Jim's grave is today surrounded by a metal fence that restricts the fans from coming very close to his resting place. Despite the restricted access to his grave, Jim's fans still leave friendship bracelets, notes and bottle of alcohol as tributes. His grave now has a simpler version of a headstone that has a Greek inscription roughly translating to "True to himself."
You can take a look at Tombstone pricing to see how much does a similarly designed headstone costs in Virginia today.
Bruce Lee and Brand Lee, Lakeview Cemetery, Seattle
Famous movie star and martial arts legend, Bruce Lee is visited by more than 10,000 people every year, especially Chinese Americans who look up to Lee as an inspiration. Lee is laid to rest beside his son Brandon Lee, who was killed on the set of an action movie The Crow when a stunt went wrong.
Lee died tragically young at 32 years of age. The world has witnessed the dedication of Lee's fans when three Mongolian men were reported to have walked more than 3600 miles over 7 months just to visit Lee's grave at the Lakeview Cemetery.