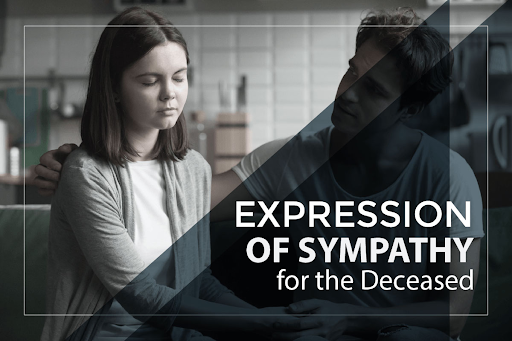 Expressions of Sympathy When Someone Passes Away
The impact that losing a loved one has on the deceased's immediate family is quite brutal. In such times, the family first goes through shock; they find it hard to believe that their loved one is no more and then eventually, grief takes over. 
Our Natural Response to Someone's Death
When relatives and close friends learn about death, they all rush to deceased's house. In such a situation, most people are thinking about how best to help the grieving family; some will ask the family if they need anything, some will try to help with the funeral by telling about a nice cemetery near their home, etc.
After spending a few hours at the house sitting quietly doing nothing, most people come to believe that they can't really help the grieving family and so, they just leave after visiting the grave.
What Actually Brings Comfort to the Grieving Family
The reality is quite different though. In such times, the grieving family doesn't need your help in the funeral arrangements or running errands, what they actually need is your emotional support. Of course helping with these small tasks does bring some comfort to the family but it will be nowhere near the comfort your presence and emotional support will bring.
Regardless of what the grieving family does; whether they talk, whether they cry or whether they sit quietly and say nothing at all, do not think for a second that your presence is not comforting them.
What most people don't realize is that the biggest proof they can give of their emotional support to the grieving family is by postponing all their tasks and spending the entire day with them.
One More Reason Why People avoid Grieving Families
Another big reason why people don't really spend a lot of time with the grieving family is because they are awkward around death and don't really know what to say or how to console the family. In fact, on many occasions, while trying to pay their funeral sympathies, people end up saying something hurtful.
It is extremely important for every person, regardless of what ethnicity, race or religion they belong to, to learn a few things regarding how to comfort a grieving family and how to pay respects.
Regardless of how much or how little you think you know about paying respects, we suggest you learn these few funeral sympathies by heart;
We are so, so sorry for your loss.

Please accept our deepest sympathies for your loss; our prayers are with you and your children during this sad and difficult time.

Our sincerest and deepest condolences to you upon the passing of "deceased".

Words cannot convey how saddened we are to hear of "deceased's" passing.

I hope the many wonderful memories you have of "deceased" will help to sustain you at this difficult time.

We pray the love and strength of God enfolds you during this testing time

It was with great shock and sadness that we learned of "deceased's" passing; please accept our condolences.

My sincerest condolences. May you find the strength to cope.

May the love of your family and the memories of "deceased" comfort you in the days ahead.